OCCS | Optical Consumer Complaints Service
Maria

Offline

Topic Author

Posts: 1
Thanks: 0
Posted

21 Jan 2023 08:47
#1
I tried to resolve my complaint through the OCCS as Optical Express advised, and was surprised how little they seemed to do. I wasn't asked for any information by them other than my original email, they seemed to take the Optical Express response as true, as I had no opportunity to respond and put my case to them. There didn't seem to be any real mediation, as you can see in their response.
Any similar experiences or successful ones?
On Thursday, 5 January 2023, 13:51:28 GMT, Dawn Slocombe <dawnslocombe@opticalcomplaints.co.uk> wrote:

Dear Mrs Maria

Complaint regarding Optical Express

Further to our previous communication, as you are aware we have been trying to mediate and resolve your complaint regarding Optical Express .

Unfortunately we have been unable to find a resolution which you and the practice can agree.

We approach each complaint fairly and objectively. The OCCS has no formal power to require the parties to agree to or accept any proposal but we find that expressing our view can help both parties to resolve matters.

It is important to remember that the OCCS is a mediation service only, we are not an ombudsman nor arbitration service, we do not conduct investigations nor decide who is right or wrong, we remain in a neutral position to try to find a resolution that satsfies both parties.

I can confirm that Optical Express has entered fully into the mediation process by providing copies of your clinical records, their responses, and attending a meeting with the OCCS to discuss your complaint further.

Your clinical records have been reviewed by our clinical consultant who has not raised any concerns regarding the information he has been provided.

Your complaint was stated as follows:

I had Lasik eye design on 26th Jan 2021. I have sent copies of my complaint and responses to the above email address, and it has been a very lengthy process with inadequate responses. Including;

- misleading me about the likely outcome (I was advised my reading vision would remain the same, when it was 'wiped out').

- I could never see properly for distance, yet despite this I was discharged with 'perfect vision', and left unable to see.

- Each complaint optical express were only trying to cover themselves and not actually resolve the problems or help me - causing me incredible distress. Every time I complained I was seen and discharged, without trying to find a solution (apart from eventually surgery, but to a prescription that was giving me worse vision than I already had).

- One of their own practitioners advised they would not have found me suitable, another said I was at increased risk of complications - and should have been advised of this. I was not given appropriate advice prior to my surgery.

- I have ongoing vision problems; seeing double, poor vision which 'moves', feelings of disorientation, dizziness and constant vertigo - for which I take daily medication, affecting my ability to drive, work and leisure time.

- Optical express have referred me to [redacted] who are currently helping me to find a solution.

The OCCS has discussed fully your concerns regarding your suitability as a candidate for the elective procedure provided, your level of vision and the 20/20 guarantee which forms part of your terms and conditions (summarised).

Optical Express has advised the OCCS that they follow a strict acceptance criterion when assessing suitability for surgical procedures, they have advised that you were a suitable candidate for your procedure and has confirmed to the OCCS that Duane's Syndrome is not a contra indication to surgery.

The OCCS understand the distress that having a prescription has caused you after your procedure and has discussed this fully with Optical Express. They have referred the OCCS back to the terms and conditions and documents provided to us which state that you were fully informed and consented and were aware that a prescription at any level may be needed.. The issues you have described above, double vision, vertigo etc (summarised) can be attributed to Duane's syndrome and Optical Express do not consider these symptoms to be caused by your procedure.

Clinical records reviewed by the OCCS show that after surgery on 26/1/21 you did meet the requirements of the 20/20 guarantee visual requirements by gaining a visual acuity of 6/5 (better than 20/20) however it is noted that your vision has since regressed. Prescription regression is a consented outcome agreed to in the signed terms and conditions entered into which form a legal contract. Regression of prescription can happen at any time and are natural changes which cannot be predicted.

The terms of the 20/20 guarantee state that a refund under those terms must be requested within a 15-month period, in this case by April 2022, Optical Express has advised that you requested a refund under the terms and conditions in August 2022, therefore unfortunately you did not meet the required timeline needed to make a successful claim.

As an addition Optical Express has advised the OCCS that you declined the possibility of a further procedure to try to improve your vision, therefore breaking the terms of the contract.

As the terms and conditions form a legal contract this is not an issue that the OCCS can dispute therefore if you feel that you have suffered loss or damage, or that Optical Express has misrepresented themselves, we advise you to seek legal advice regarding this. I have attached information which advises how to find a solicitor if you do not already have one.

Due to the above Optical Express has declined to make any proposal to you however they would be happy to provide you with a free appointment with an optometrist to discuss your concerns further, if you would like to accept this appointment please let me know and I will advise them accordingly.

I am aware that you will find the above disappointing however I hope that I can assure you that your complaint has been fully reviewed and understood by the OCCS and discussed fully with Optical Express within our role and remit however unfortunately mediation has not been successful for you on this occasion.

The OCCS are committed to delivering a fair and efficient mediation service and to continue to improve the service we offer to optical practices and their clients. Your views and feedback are vital to our service and I would therefore be grateful if you would take a moment to answer a short questionnaire. Please click here to give your feedback.

I would like to take this opportunity to thank you for contacting the Optical Consumer Complaint Service

Yours sincerely

Dawn Slocombe

RESOLUTION MANAGER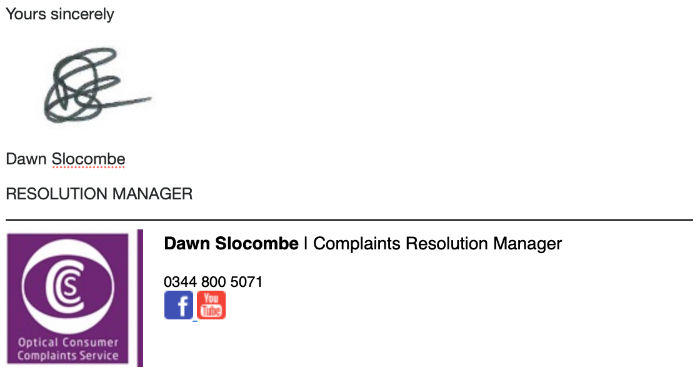 Last Edit:
02 Feb 2023 18:04
by

Maria
Note: BBcode and smileys are still usable.