Advanced Vision Care
Posted

30 Dec 2019 12:12
#1
Advanced Vision Care owner CT Pillai cannot be forgiven for taking deposits from customers when he knew there was a strong possibility that his company would be out of business by the date of their scheduled operations.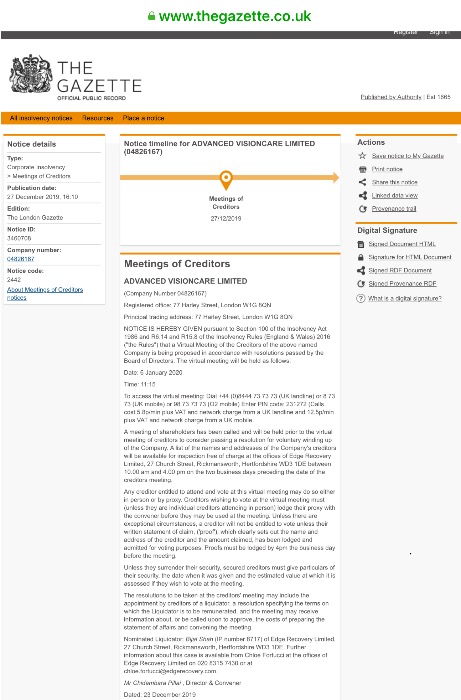 But as I've previously said, these people should consider themselves lucky if it's just money they've lost, because they still have healthy undamaged eyes

And I suspect this money - and more - may have been safely filtered into his (or his wife's) personal bank account before bailiffs went in to the expensive rented Harley St premises, when AVC published an online notice claiming the clinic was temporarily closed for a few days, dishonestly claiming it was due to problems with the equipment - presumably seized by the bailiffs if not leased!
And since the company went bust, optoms who were regularly paid referral fees by AVC have approached a number of other clinics asking them to make the same financial deal with them. I understand that some of these clinics have shown them the door.
But as AVC's business manager Ryan Acara has since been taken on by Focus clinic owner David Allamby, perhaps the optoms have found someone willing to deal with them. Because since his one minute of screen time on the Jeremy Vine Show, Allamby is now bloated with a sense of self importance, even though JV didn't have surgery, clamming up about the topic after being heavily criticised for his ignorant and uninformed advertorial for laser eye surgery.
A recent review from 'Mel Gibson' on the misnomered Trustpilot site defends CT Pillai, even suggesting that he should train MEH ophthalmologists - which leads me to question the poster's claim to be a nurse!
www.trustpilot.com/review/www.advancedvisioncare.co.uk
One response to Mel's review (apparently written by Ryan Acara) claims that CT Pillai is approaching other clinics and optoms asking them to care for his patients.
Coincidentally, I have it on good authority that David Allamby has been making noises that he will do so free of charge. And, as have some of his competitors, I question what's in it for him, perhaps hoping for publicity by playing the white knight riding to the rescue and making sure a journalist gets to hear about it?
However, not only is Allamby unqualified to perform lens exchange ops, that apparently many AVC customers left out of pocket paid for - not forgetting those desperately needing aftercare to repair post op problems after RLE/NLR - but I doubt very much that Samer Hamada would be so charitably inclined.
Samer is the surgeon Focus hires in to perform these more specialised procedures, also working at Optimax, where coincidentally Allamby scarily trained as a laser surgeon. The blind leading the blind...
For those of you who missed it in 2017 (scroll through history for details), after publication of the updated RCOphth refractive surgery guidelines (unenforceable and another advertorial), Optical Express colluded with FODO to publish their own 'standards', not recognised by any organisation but their own!
Page 26 lists the contributors:
www.fodo.com/downloads/Ophthalmology/mul...d-clinical-teams.pdf
Note that David Teenan was also a core member of the RCOphth Refractive Surgery Standards Working Group (RSSWG) in 2016.
At the time, concerned that he was being sued by so many of his damaged patients, the RCOphth were challenged about David Teenan's inclusion on the RSSWG, and at a meeting to argue my unfair removal as lay adviser from the group (at David Moulsdale's behest) not only did they say it would be awkward for Teenan to sit at a table with me, but the chair told Shadow Chancellor John McDonnell they had to keep OE on board as they needed them to agree to the standards to accept them! Surprisingly no minutes taken when I later asked, lucky then that I recorded the meeting.
In fact OE did not accept the College standards - instead they wrote their own! Yet even though in total conflict, the latter took no issue with David Teenan's FODO involvement when I questioned this.
Underlining my oft repeated criticism of the College, not fit for purpose!
Having been assured in writing, by the GMC, GOC, and RCOphth, that they did not recognise FODO's multidisciplinary standards, I then wrote to Drs Dan Reinstein and Chidambara Pillai, both of whom who'd collaborated with Optical Express on FODO's publication, questioning their affiliation: to the College or David Moulsdale?
They both told me 'the College', so it must have been for the money Moulsdale paid them.
And of course Dan Reinstein will put his name to almost anything, not unlike his own patient Dr Hilary Jones, now paid to promote Optical Express, whose highly publicised surgery with Dr Dan has been mostly expunged from the internet.
The following is lifted from one of CT's numerous emails to me (his punctuation, not mine) after I had called Advanced Vision Care in July 2017 and told his clinic manager that if I didn't get a response to my unanswered email I would simply publish the info without CT's comment...
'
I am really concerned that you told one of our staff that if I don't reply to your mail , then my name will be tarnished in your web site ?my staff felt threatened by your strong message and we feel, it is not fair they lose their jobs due to bad Publicity for AVC in your web site ?? why ? what have we done wrong for patient safety if that was your ultimate goal ??

I am trying to understand the logic behind it and I am also worried why this mail is copied to a selected few in the Royal college committee ? More over why David Teenan who was part of working party committee is the key figure in the new federation ? that means he does not agree with the Royal College Guidelines anymore ? so it makes one doubt that there is no unanimity in the decision
.'
24 July, '
We don't want to get involved in any refractive politics and we know some of Moor fields surgeons criticise others routinely
.'
25 July, 'I
do again emphasize that I am not part of or advisor to optical federation and I only gave my opinion on the Royal College and it was never meant to criticise you or your work at all and if I have come across , I apologise .

I am going to ask the federation to take my name off if it causes lot of misunderstanding about AVC and Us as we avoid all kind of Politics especially in refractive surgery . That is why even though I have come across unethical practices or complications of others , we never criticise others or expose Them as we want to mind our own business.
'
Very concerned that I would name and shame him, CT did in fact ask the cowboy outfit FODO to remove his name from their publication, and they agreed to do so (in writing) but his name remains.
Interestingly, in another email, CT wrote,
'
Even though I support and recommend most of the Royal college guidelines for patient safety etc , not many people agree and frankly unhappy the way Royal college conducted the whole exercise in secrecy and not involving all the parties involved in a democratic way . I was not aware that the new working party was formed and I was not aware of these developments till third consultations. We were in the dark that original working party was dissolved ? none of us were notified ? why ? Why there was no proper representation from all refractive clinics ? The people who were asked to represent are not practising refractive surgeons or perform only handful of refractive surgeries per year ? How are they classified as experts ?
'
I have to agree that he raised some good points, especially re Teenan, but in fact the core members of the RSSWG were refractive surgeons, and therefore totally biased, rewarded with a priceless opportunity to promote their businesses. And of course David Moulsdale had a virtual seat at the table, on Teenan's lap.
CT Pillai also told me that it was Russell Ambrose who introduced him to FODO, yet you won't find the Optimax or Ultralase name linked anywhere, because Russell's a weasel, sneakily working in the background whilst appearing to keep his hands clean.
In August 2017, after agreeing to meet with Darren Grady, one of his damaged patients, hoping to resolve the matter without legal intervention, CT suddenly announced that he'd consulted with his lawyers and changed his mind, and was no longer prepared to meet Darren face to face.
www.opticalexpressruinedmylife.co.uk/ind...advanced-vision-care
In the same way, instead of having the balls to address these people himself, cowardly CT Pillai sent an emissary to sing his praises on the closed Facebook group set up for people affected by the sudden closure of AVC.
The moral of this story, for those of you who haven't yet undergone refractive eye surgery, don't do it!
Meanwhile, if you are an AVC damaged patient, I recommend that you ask your GP to refer you to an NHS specialist ASAP.
Last Edit:
04 Jan 2020 07:30
by

admin
Note: BBcode and smileys are still usable.
Posted

17 Dec 2019 18:17
#2
I am pleased to announce that Advanced Vision Care is now in administration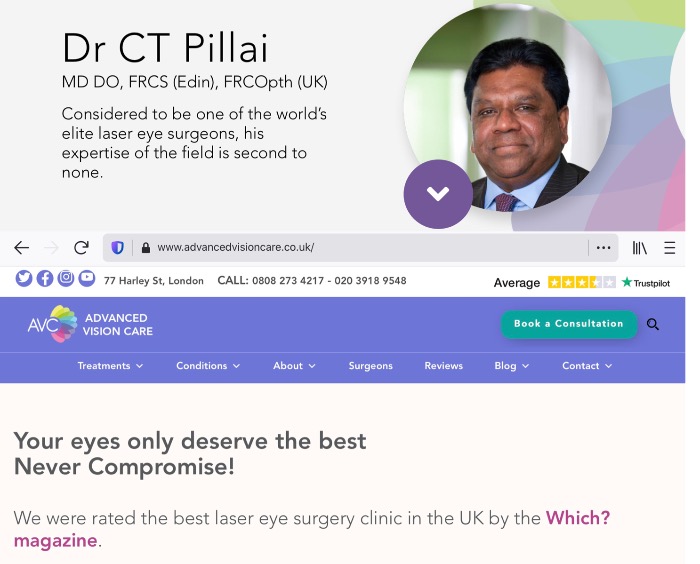 Unfortunately however, a number of people have lost their money after paying for surgery they haven't had (something to be thankful for in my opinion), whilst damaged patients don't know where to turn!
www.trustpilot.com/review/www.advancedvisioncare.co.uk
It should be noted that CT Pillai's advertising claims, his expertise 'second to none', simply self-aggrandizement, and written by his own PR team.
Which? editors have a lot to answer for, having recommended AVC in their September advertorial, and I'll be addressing this in my reply to their recent email, yet to be published.
After his collusion with Optical Express in 2017, I exchanged quite a lot of correspondence with CT Pillai, who was very concerned that I would name and shame him - which regular readers know I did!
See page 26:
www.fodo.com/downloads/Ophthalmology/mul...d-clinical-teams.pdf
I met CT in person on a few occasions, when accompanying damaged patients to medicolegal consultations with OE's chosen 'expert', Wayne Crewe-Brown, who rented rooms for that purpose at AVC. (More to come about this dishonest doctor.)
I'll tell you more about CT Pillai, and his downfall, as soon as I can, but meanwhile, if you are an AVC patient left high and dry, someone has set up a dedicated Fb discussion group, 'Advanced vision care patients'.
And damaged patients (only) are invited to join My Beautiful Eyes Foundation closed Fb group.
Last Edit:
30 Dec 2019 12:23
by

admin
Note: BBcode and smileys are still usable.
Darren Grady

Offline

Topic Author

Posts: 1
Thanks: 0
Posted

01 Oct 2017 10:24
#3
My Advanced Vision Care review!
After years of wearing contact lenses and glasses, in January 2014 I decided to research my options for refractive eye surgery.
17 Feb 2014, I attended an initial consultation at London Advanced Vision Care clinic in Harley St. I met with owner Dr CT Pillai, and his clinical manager Pawel Marcinkowski.
They told me I was suitable for lens exchange, that it would change my life, and that I would never get cataracts. It sounded like a dream come true!
At the second consultation Dr CT Pillai noted that due to the high degree of myopia in my right eye was so high that a second opinion was required with an 'independent' expert, for which I had to pay another £175!
I was a little confused by this as I'd already paid £150 for the initial consultation, and the information on the Advanced Vision Care website clearly states, "
Industry's most experienced and respected surgeons in their fields
".
advancedvisioncare.co.uk/about-advanced-vision-care/
This then begs the question, why was I being asked to pay more money for a second opinion if Advanced Vision Care are the industry's most experienced surgeons?
It also contradicts their advertised claim that, "
Our fees are fixed, transparent and all inclusive
…"
advancedvisioncare.co.uk/laser-eye-surgery-costs/
However, because I was anxious to ditch my glasses and contact lenses I agreed to split the cost of the 'independent' consultation 50/50 with Advanced Vision Care.
21 March 2014, I attended a consultation with the 'independent' expert Mr Ajai K Tyagi at another Harley St clinic, although coincidentally Ajai Tyagi shares the same address as AVC!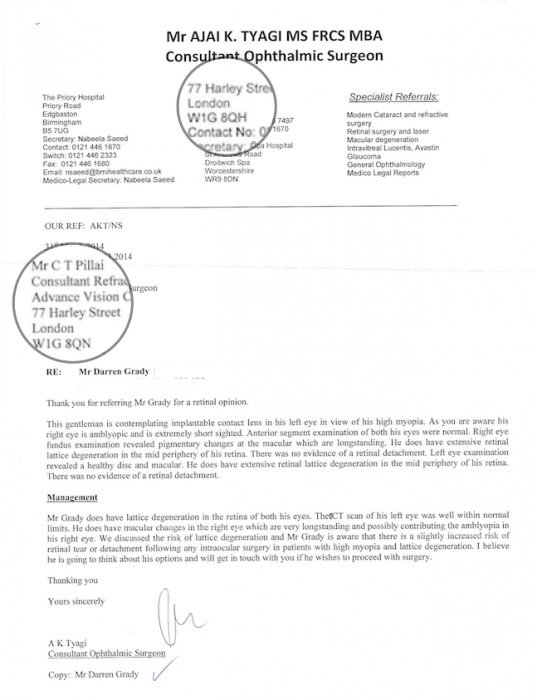 Quote from the AVC site: "
Completely independent clinic with no affiliation with manufacturers or paid consultants
." Hmmmmm!
31 March 2014, I received a letter from Mr AK Tyagi advising me that there were risks associated with progressing surgery on my right eye given the level of myopia.
I spoke with Advanced Vision Care but they said they had no concerns and were happy to proceed if I was, and, as their website advertises them as the 'most experienced and respected surgeons in their field', I trusted their decision.
My operations took place on the 16 and 17 April 2014, with surgeon Dr Goran Helgason.
I had follow up appointments in late April and May, no problems, so I was very happy with the treatment I'd had at Advanced Vision Care.
AVC asked if I would appear in a promotional video for them, and I did so.
Sunday 8 June 2014, I awoke to discover that the vision in my right eye was starting to deteriorate. There was an orange bubble effect which gave my vision an overall orange tinge. Soon after my vision started to further deteriorate. It was like a curtain closing, and by mid afternoon the top part of my field of vision was black.
It was now late evening and I contacted Advanced Vision Care.
Pawel Marcinkowski called and advised me to go to A&E at Moorfields eye hospital IMMEDIATELY.
I arrived at Moorfields shortly after midnight and was seen straight away due to the severity of my condition.
By 4.00am the next day I had lost all vision in my right eye and I was diagnosed with a detached retina.
This was only two weeks after making the promotional video - which I intend to instruct Dr CT Pillai to withdraw from showing his customers.
After all the wonderful life changing promises from the Advanced Vision Care team, this was not the outcome I expected.
My dream had suddenly become a nightmare.
To be continued, including details of my 100 visits to Moorfields, and correspondence with Advanced Vision Care, who have offered me no help or support since 2014.
To add insult to injury, this recently arrived in my inbox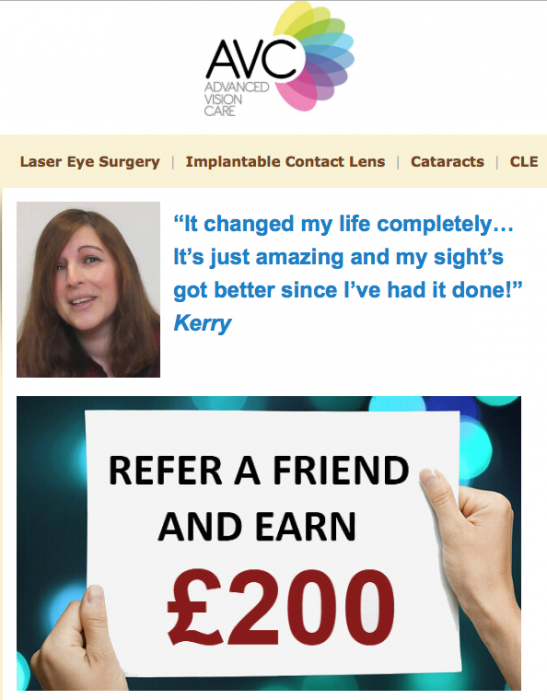 Last Edit:
04 Oct 2017 21:49
by

Darren Grady
Note: BBcode and smileys are still usable.