Dr Bobby Qureshi's MPTS hearing continued

Three more witnesses gave evidence on Friday, and Mrs D was the first, via video link.
Her husband (deceased) had surgery in 2014, and when asked why he'd gone to the London Eye Hospital, she said it was her fault, because she'd seen so much advertising, and after googling Bobby Qureshi had no reason to doubt anything.
Patient D was a surgeon himself, and told his wife after the second procedure that he was disappointed to be told that Miss CW would be operating, under Bobby's supervision.
Mrs D told the tribunal that he didn't say anything at the time because he'd been put into an embarrassing situation, with Miss CW introduced only when he was on the table, but that he was not happy having paid for Dr Qureshi. And a letter from Patient D to Bobby Qureshi after surgery repeated this allegation.
Denied by the defence, they claimed that Miss CW was an observer. Mrs D argued that, as a surgeon himself, with an excellent memory, she did not believe that her husband was mistaken.
Patient D was quoted £15,000 per lens, but Dr Qureshi said he was entitled to a discount because he was 'a medical man'. Yet Patient A was not a 'medical' person, given a £2,000 discount on condition she signed up on the day of her consultation (see 24 Jan post). Again, similar sales tactics to OE!
Post surgery, approximately four to eight months maximum according to his wife, Patient D was experiencing misting, but was unable to get an appointment with Dr Qureshi.
Mrs D said, '
Off record, personally for Dr Qureshi, very disappointed that there was no aftercare, my husband would never have done that
.'
She added, if he refuses to see patients post op, '
How good is your research?
"
Patient U and her sister both gave evidence after lunch.
With AMD, Patient U was registered legally blind before her surgery.
Promising her 30% improved vision in her left eye (with no sight at all in that eye she thought she'd be able to see), and 70% improvement to the limited vision in her right eye, Dr Qureshi fitted her with two lenses per eye.
Patient U's sister was a senior nurse with the NHS, and told the tribunal that she'd read up about the lens, that it was connected to NASA (OE make similar claim about laser), and that because BQ was so confident, expressing no doubts, telling them he'd done hundreds of these ops without problems, they believed there was nothing to lose.
Patients U's sister said, '
We thought he was the Messiah, that he would perform miracles
.'
But Patient U told the tribunal, '
I still go round in a fog, as I did before surgery
.'
On the way back from Manchester last week it occurred to me that if BQ's miracle treatment could have given sight to so many patients with AMD (Age-related macular degeneration), then surely this 'revolutionary' new treatment would have been made available on the NHS?
So I asked the opinion of an expert in this field.
He explained that the problem with the iolAMD and EyeMax Mono lens was that it was very early days, and should not have been used on patients without good trustworthy data.
He added, had he invented the lens, then he would have carried out a free ethics approved trial, and if that proved successful, over a period of 6-24 months, only then would it have been acceptable to ask patients to pay for this treatment, but even then with an inclusion criteria, refined during the trial process.
In layman's terms, with a trial you would see who benefited most from the procedure, and of course those who don't, and future patients would be selected accordingly. Whereas Dr Qureshi seemingly sold this procedure to any desperate patient with AMD, some spending their life savings to pay for this!
I questioned Dr Qureshi's extremely high fees, £11-15,000 per lens, compared to approx £2.5-3,000 for a regular lens used in cataract surgery performed at a private clinic.
I was advised that even though the Research and Development costs would need to be recovered, Bobby Qureshi's fees were way too high. And, remembering that like most others with AMD, Patient U paid £22,000, so if there was no extra charge for her additional two lenses then it's his time BQ was pricing so high.
And of course with thousands of people desperate to believe they could improve their vision with these lenses, had they been successful, there would never have been a shortage of customers, and BQ would have recovered his R & D costs relatively quickly.
Sadly, it's apparent that Bobby Q's motivation was £££, leaving so many people not only without vision, but penniless too.
And I wonder if actress June Brown (aka Dot Cotton) paid for her surgery, because, just like Alan Titchmarsh, she provided priceless advertising for Dr Bobby Qureshi and his London Eye Hospital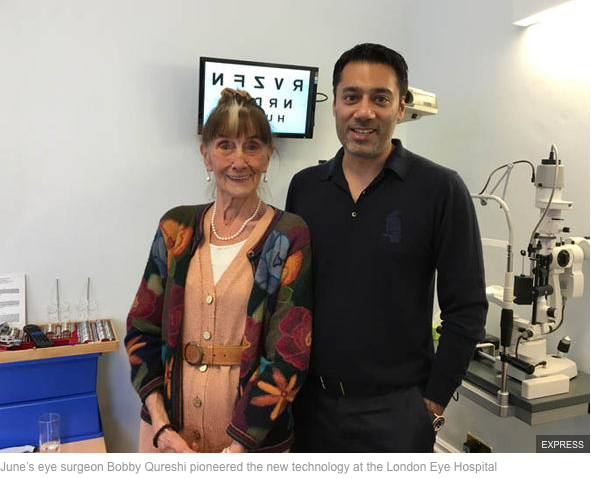 The witness accounts are repetitive, so I have done my best to pick out salient points, and those I think will be of most interest to my readers. However, press and legal teams are welcome to contact me for more detail.
Meanwhile, some of you might be interested in reading this, 'CQC inspects London Eye Hospital after patients complain'.
www.cqc.org.uk/news/releases/cqc-inspect...er-patients-complain
Following the letter from health minister Steve Brine (prev post), this is a case in point proving the absurdity of the government's repeated claim that the CQC are doing anything worth a damn to prevent damage being inflicted on so many thousands of people every year!
Government regulation is the ONLY hope for any control of the industry, who - just like the police - virtually self regulate, with anything from the omnipotent Royal College of Ophthalmologists quoted by the press, NHS choices, etc… without question!
The Royal College, just like the GMC, are funded by their surgeon members, and I am highly critical of both organisations, as I've often written.
*
But while the College have no regulatory powers, the GMC does, yet closed so many complaints against ophthalmic surgeons, even when GMC appointed independent experts report that they performed below the 'reasonable standard expected from a consultant ophthalmologist'.
In my opinion therefore, the only reason Dr Qureshi is at a Fitness to practise hearing is because of the pressure exerted by the Macular Society.
I'm back in Manchester tomorrow, when the GMC's medical expert will be giving evidence, and I will of course update you…
Meanwhile, to everyone reading - ophthalmic surgeons included - please keep in mind that I have to pay for travel and accommodation to attend the hearing, so any contributions to my costs are welcomed and much appreciated - DONATE link at top of page 🙏
*
If you've only recently started following this page, scroll through the history and read how David Moulsdale (Optical Express founder/CEO) colluded with members of the RCOphth, including the chair, Moorfields surgeon Bruce Allan, to remove me from my nominated position as Lay Adviser to the Refractive Surgery Standards Working Group in 2015.