28 January, Royal College of Ophthalmologists Lay Advisory Group meeting (see 21 February for Part 2 & 28 January for Part 1)
Possible lack of chronology in places, but as accurate as I can recall…
Listed on the agenda, 'Report of the Refractive Surgery Working Group' (note the wording as it comes under discussion later).
Fourteen people attended if I remember correctly; five directly associated with the College (LAG Chair Tom Brembridge borderline in my opinion) and apologies were made for the absence of two new clinician members, Chris Lui & Bridget Hemmant.
After my first LAG meeting on 17 July 2015 I emailed Tom to ask why, when he'd said the group needed to recruit another member, he'd suggested that they should be an ophthalmologist - by definition not a lay person. He replied that there were already '
three eye doctors in the group… (who) provide very useful input to our meetings and ensure that discussions are well informed on medical fact
.'
The definition of a lay person is, '
one who is a nonprofessional in a given field
'. Had Chris and Bridget attended the 28 Jan meeting there would have been five clinicians present, plus the College Chief Exec and her secretary.
Bill Newman is the RCOphth Honorary Secretary (he also attended the 4 Dec meeting with John McDonnell) and as soon as I saw him walk into the LAG meeting I had no doubt he was there in case of problems with me, because no-one else on the group had ever shown any interest whatsoever in refractive eye surgery - or my campaign!
Tom introduced Bill to the group, explaining that he was there '
for his own interest
', and because he, '
sits on the Refractive Surgery Working Group
'. (again, note the wording)
Bill explained that he'd been associated with the College longer than he cared to remember, that he deals with the administrative side of things, and as Hon Sec he can sit in on any committee he wants within the College.
Tom moved on, advising that if anyone wanted to add anything to the agenda in future it should be done via him, not the College staff. This was obviously directed at me because I'd emailed Carrie MacEwen immediately after John McDonnell and I had met with the trustees on 4 December.
I wrote, '
I am also concerned about your response when I asked what you meant when you told my MP Theresa Villiers that, "We (RCOphth) have shown tolerance in allowing her to remain on the Lay Advisory Group". You replied that I need to ask the LAG members about this, but, as I pointed out, it was you who made the comment not the LAG members. I also do not understand what has caused the LAG members to display the hostility they have toward me, and at the last meeting I overheard one of the members whisper to another, "I don't know what she's doing here". I suspect that all correspondence with the LAG members concerning me was not disclosed under my SAR, and with that in mind I would appreciate the opportunity to address the group in January and ask the members to be honest and explain their obvious antagonism toward me
.'
Carrie didn't have the courtesy to reply to this, or to any other email I sent (other than her RSVP declining an invitation to Bad Eye Day). I sent the same request to Kathy (twice) but she didn't reply either.
I told Tom that I'd given up emailing him as he never replied, adding that I'd seen an email (provided under my SAR) where Bill Newman advised his colleagues not to reply to me, and that seemed to have become the theme of the Council members.
Bill butted in, foolishly claiming that he had no idea which email I was referring to, that he hadn't suggested to anyone at the College that they shouldn't reply. This was of course a BFL - Big Fat Lie!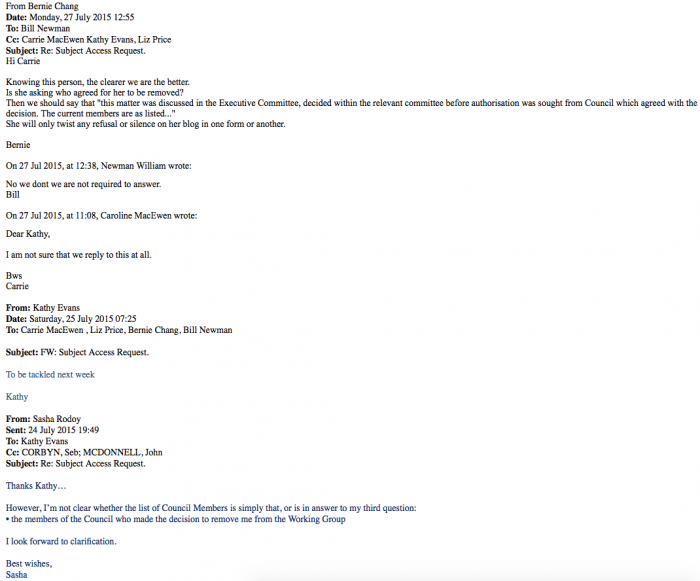 A brief bickering match ensued as Tom denied having ever received emails from me (BFL) while Bill jumped in to support Tom, setting the tone for the impending discussion on the WG draft.
And I sensed the pressure building…
Discussing another issue, and supporting the lay member dealing with it, Carrie said the College would continue to pursue Ben Gummer on the issue - the same Ben Gummer who has avoided meeting with me since his appointment as Health Minister last year, following the example of his predecessor Daniel Poulter, who postponed three meetings right up until the General Election, after which he immediately resigned from the Dept of health. (Seb Corbyn joked at the time that I was responsible for the resignation of a government minister)
Why oh why did Carrie and the College not offer similar support for my campaign, and to the tens of thousands of people damaged by this unregulated and corrupt industry?
The usual fawning, and verbal pats on the back from Tom and Carrie for various 'good deeds' mentioned.
NB: Neither Bad Eye Day, nor BBC's Inside Out undercover exposé of OE last year were ever mentioned at LAG meetings, even though Inside Out was discussed in emails between Carrie and Tom.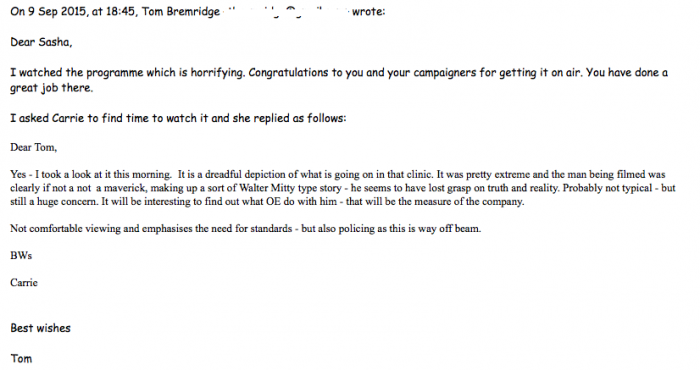 Nor did Carrie ever ask me about this.
Half an hour later we finally reached the WG draft, described by Tom as '
guidelines for giving consent
'.
Tom started by saying he was concerned about 'policing', asking what would happen if a provider ignored the standards as they're not obligatory. I said, '
You invite them to join the Working Grou
p'.
Ignoring my comment Bill replied that 'policing' was still under discussion and would probably not be decided until 'towards the end'. Whenever that is, because on 4 December, finding another excuse not to reinstate me to the WG, Carrie told John that the guidelines would be completed by the end of January - 2016 that is! (BFL)
Bill and Carrie went on to say that they were only guidelines and could not be regulated by the College, but they were planning for the GMC and CQC to regulate.
That's all right then, I'm meeting with John McDonnell next month when I can tell him that the campaign is over and we can now leave it to the GMC and CQC!
Seriously, when I see either the GMC or CQC actually do something that earns them any credibility I'll be the first to praise them. Until then, with my experience, they're not fit for purpose!!
Bill said they were looking at the possibility of the College refusing to accredit surgeons if they didn't abide by the guidelines but that it wasn't something they have any firm recommendations on.
Yet the Irish College told me early in 2015 that they are doing exactly this, as I told Kathy when I met her in July (to discuss my removal from the WG), so why should it be a big deal for the Royal College to follow suit?
But even if they do include this in the final document, whether Optical Express refuse to accept the standards or not is irrelevant, because they don't abide by the current guidelines, and not all their surgeons are members of the College (see 9 December post).
Ignored by all but one member at the previous two meetings (I was in early stages of depression at the second) I decided to make an attempt to 'bond' with my LAG 'colleagues'.
I had taken screenshots of online ads, to highlight the sales pressure that I wanted to discuss at the next day's meeting, so I attached them in an email to all LAG members. I explained that at the previous meeting in October I was struggling with the onset of a severe bout of depression, a common 'side effect' suffered by the majority of people damaged by elective refractive eye surgery, but was now happily out of my black hole and looked forward to engaging in constructive discussion the next day.
Only one person responded, '
Thank you Sasha. I'm glad you're feeling better about life. See you tomorrow
.'
The next day I asked the group if it was just that they didn't like me, or perhaps my messages were going into their junk mail, because an acknowledgement of my emails would have been appreciated.
I said no-one had replied to my invitation to 'Bad Eye Day' at the House of Commons last year, and thought it would have been beneficial for them to have heard the Shadow Chancellor, and dozens of damaged patients, speak publicly about this scandal.
No-one made eye contact with me and only one person spoke up, claiming they hadn't realised I wanted a reply. I pointed out that the Bad Eye Day invitation was clearly marked 'RSVP'!
We moved on, with comments about whether or not there should be silence during surgery, confirmed follow up appointments, how long the cooling off period should be - Mrs W said 14 days, comparing it with her new utility provider's agreement and provoking laughter around the table. Oddly I didn't find it funny.
Aaaargh… biting my tongue because not one single person present (bar Carrie, Bill and Kathy) had a clue about what the real issues are, or even seemed to care! Perhaps if any had ever shown the teeniest bit of interest and actually had a conversation with me they might have understood, and also appreciated the corruption I'm fighting, at EVERY level!
Asked for my comments I said that I was trying very hard not to be at war with the College, but was increasingly frustrated with the fact that I'd been excluded from the RSSWG, my area of expertise.
I said that, as I saw it, the feedback from the LAG was more about the content of the text than anything else...
I also expressed my concern that Bridget Hemmant's emailed comment on the draft referred exclusively to '
laser treatment
'. I said that she was missing something, and in deference to Miss R (who replaced me as lay adviser on the WG) I asked her to tell the group what it was.
But unfortunately Miss R didn't know, so I explained that the Refractive Surgery Standards covered lens exchange, not only '
laser treatment
', and that if you have an ophthalmologist who doesn't understand this (or indeed anyone involved in contributing to the standards) then that's a problem in itself.
Carrie leapt to Bridget's defence, telling me she was just feeding back to the lay group, but I argued that she was commenting on a document which covers refractive lens surgery as well as laser, and as a consultant ophthalmologist she should know this.
Tom interrupted, asking if he was right in saying the WG was actually called the '
Laser Refractive Surgery Group
'. (remember I said this wording would come under discussion later)
I replied that he was not right, that it was '
Refractive Surgery Standards
', and that refractive eye surgery covers laser, lens exchange, and intro-ocular lens.
Miss R said it was unacceptable that I'd challenged her and she was upset at my '
adversarial approach
'.
I replied that I was simply making a point…
She said that we were both colleagues and '
should be working together
' - and I couldn't have agreed more!
Bill said if it was not going to be a productive meeting he was going to close the item…
I asked if I could continue but Bill told me not, that he was the College secretary and in charge of the administrative aspects…
I tried to continue but Bill actually told me to '
be quiet
', that I could only comment on the content, not what anyone else had said!
I said I was being hushed up yet again, they denied it…
Tom said that, considering it was my subject, my contribution to developing the document so far had been very disappointing.
I replied that I could only laugh at that, and could I please set the record straight and explain to the LAG members exactly why I was taken off the WG, but Tom said it didn't matter why.
Trying hard to keep my patience I said, '
Ok, let's address what happens if a company doesn't accept the guidelines
', and repeated what I'd said earlier, '
you invite them onto the Working Group
'.
Carrie jumped in and said that wasn't true! I said what about David Teenan…
Tom tried to interrupt but Carrie continued, claiming that Teenan was not representing any group at all, that he was there as an independent surgeon. (BFL)
From OE's website: '
Mr. David Teenan is a fully trained Ophthalmologist who has undergone additional specialist training in refractive surgery and is a full time ophthalmic surgeon with Optical Express
.'
www.opticalexpress.co.uk/surgeon/david-t...7npJQd5rkxoC5a3w_wcB
I reminded Professor MacEwen what Peter Tiffin had emphasised to John McDonnell on 4 December, that I'd been taken off the WG because they had to keep OE happy, and that it'd be difficult for Teenan to sit in the same room as me - paraphrasing so don't anyone sue me!
Tom finally got a word in and said that had nothing to do with it, they weren't interested in my '
personal battle with Optical Express
'.
Oh dear oh dear… in that one sentence Tom showed how little he knew about me, and about what I do.
I explained that it's not a personal battle, that Optical Express are the major providers in the industry, followed by Optimax and Ultralase; that my battle is to fight for regulation, and that's what I'm working very hard to achieve. I said that I was coming up against opposition from not only the College, but from the GMC, CQC and various other organisations, because it's an incestuous industry and the surgeons are all looking out for themselves. And that's why people like me had been silenced up until now.
Carrie said she was perplexed and confused because I'd said that I, '
wanted to get standards se
t' (not my words at all) and this was my opportunity to look at the standards that have been set.
I replied that I was unhappy that the WG had no input from a patient, but Carrie interrupted and told me that had nothing to do with it (really?), that it was about the content and that's all I was being asked to comment on.
I argued that I was not being given a chance to really '
contribute
', as she and Peter Tiffin had assured John McDonnell I would. Carrie argued that I was being given the chance, that it was right there.
Then Bill joined in and I felt like I was being attacked by playground bullies...
I was told that I couldn't comment on other people's comments - yet other members had - and that I was only to comment on what they had asked me to. Essentially I was not being allowed to say what I wanted to, and I told them that yet again I was being silenced.
Tom said they could not have the group turned into an '
adversarial contest
', and if my '
conduc
t' went on he'd take a vote on whether I should continue to be a member of the group. He told me I was '
thoroughly spoiling the collegiate working atmosphere
' and had '
completely upset the balance of the general, decent practice
' they had in the LAG. He told me I should either co-operate or they'd vote for me to leave.
Beaten down by bullies… I gave my opinions on paying for the initial consultation and the cooling off period - wow, my contribution after 5 years research and unique insight!
Asked for her comments after mine, Miss L added that I'd made her feel exceedingly uncomfortable, that she went to LAG meetings because she enjoyed them and wanted everyone to help each other...
At this point I decided to accept the inevitable, that I was wasting my time with people who didn't give a damn about refractive eye surgery and it's problems, and they never would - until perhaps it happens to someone they know!
Ignored from day one, with emails discussing me exchanged even before my first meeting, not one of my 'colleagues' helped me when I was removed from the WG. I asked for their support and they didn't even reply to my emails! In fact Miss R jumped into my seat as fast as she was asked, even though she knows nothing about refractive eye surgery, or the minefield of possible complications for patients and the associated and complex legal issues!
Sick of the bitching, and exhausted by the bullying I'd been subjected to, I interrupted Miss L and said I'd make it make it easy for everyone, that I was resigning, which would make the College Trustees very happy.
I added that I would leave them with documents I thought they should read.
These included copies of emails between David Moulsdale and the College, a statement from a Scottish legal firm representing numerous patients damaged by Teenan, and a newspaper article criticising his appointment to the WG, which included comments from me and John McDonnell (see 14 Jan post).
Mrs W said she didn't want to see them, which I found sad, because how can you make a judgement without facts and information? (I do hope she went to the 'Unconscious Bias' seminar later!)
Not only did Mrs W highlight the group's reluctance to become involved in any issue that challenged the College, but she also proved my point that not one of them has the knowledge needed to make a worthwhile contribution to the standards being set by the Working Group, because not only are they ignorant of the truth, but worse - just like the government - they don't want to hear about it!
(I had at some point intended to propose that lay members should be given a limited term of 3 years on the group, to allow fresh opinions onboard and avoid the sycophancy that unavoidably pervades cosy cliques. But I suspect they'd have shot me down in flames for my audacity!)
Tom then asked for a show of hands from all who accepted my resignation - which did make me laugh out loud! I'm sure the vote was unanimous but do wish I'd asked what they'd have done if it hadn't been.
To summarise, I am in a unique position to offer a valuable contribution from a patient's perspective, which is exactly why I was immediately appointed to the WG panel after joining the LAG last year. And exactly why, with the help of Bernie Chang (another College Vice president), David Moulsdale went to such lengths to have me removed from it!
I intend no disrespect to LAG members, but they have no understanding of the problems within the industry and therefore no comprehension of what needs to be included in the standards to protect patients.
In August, when I was asked to complete the GMC Cosmetic Surgery Questionnaire on behalf of the LAG (complete waste of anyone's time) it was circulated to the other members for comment. In respect of the question about using promotional tactics for cosmetic surgery, Miss R then wrote, '
My concern is that overseas doctors will continue to advertise and, if UK doctors are not able to advertise or promote their services, people will choose options abroad which may lead to complications that are detrimental to the patient and the UK NHS will have to resolve.
'
Hmmm… had she asked me I could have told her that many thousands of UK damaged refractive surgery patients are being treated by the NHS in one way or another!
And the last time we spoke, Miss R compared what I'm doing with her fight for the NHS to provide medicine to prevent blindness to people suffering with an organic disease.
With all due respect, while what Miss R is doing is applaudable, her area of expertise is NOT - by any stretch of the imagination - in fighting to stop corrupt surgeons and businessmen ruining people's healthy eyes for profit! This is an entirely different ballgame.
Essentially this process is a farce, just like the lengthy Cosmetic Surgery Keogh report, because if the College need OE to agree to the standards, as Peter Tiffin told John McDonnell on 4 December, then what's the point? And if they have any intention of overruling potential dissent from David Moulsdale then why did they take me off the WG?
Peter Tiffin assured John McDonnell that the College were not, '
excluding (me) from having an input in the guidelines
…'.
But John and I knew exactly how it would be. If I'm not on the WG then I am of course excluded from directly contributing and discussing issues with the surgeons on the panel. Only being allowed to comment on a draft (and even then not quite) doesn't meet my definition of making a contribution of any worth.
After removing me from the WG, last July I told Kathy Evans that the College had made a big mistake, that they had allowed a corrupt businessman to '
play them
' and they would regret it.
I trust they now appreciate that is the case, while any vestige of respect I may have previously held for the College is in tatters.
Suggesting that she was asking my permission, minutes before the meeting on 4 December, after I'd complained that a number of Council members had been refused admittance, Carrie came over and asked if I'd like Christopher Lui to join us. Worried that John McDonnell was running late, I didn't think to ask her what about the others who'd been refused admittance!
I later discovered that Prof Lui makes substantial annual financial contributions to the College (I'm told he wants to be the next president) and of course he has now been appointed to the LAG. And there was silly me trying to lobby his support after the 4 December meeting!
Coincidentally, Carrie also made contributions to the College before she was president, so let's see if there really is a price for the position and if Chris Lui will be her successor next year.
Btw, the LAG will no doubt soon be advertising for a new member, so if anyone is interested and wants advice on what to say at the interview I'll be pleased to help!
NB: Bernie Chang works for Optegra and was allegedly the MHRA expert who investigated the MPlus X lenses complaints. I expressed my concerns about this to the MHRA because Optegra have a vested interest as they also fitted MPlusX lenses to 'Clarivu' customers, heavily promoted by Ruth Langsford.
More recent readers may not know that I am almost as popular with Optegra as I am with OE!
Ruth Langsford had all posts about our 'face-off' in January 2015 removed from Facebook, but you can read the story here:
www.opticalexpressruinedmylife.co.uk/ind...plus-lens.html#11738