'NO MORE MS NICE GUY' Part 3

As I posted on 7 June, if the press are too scared to upset this industry and continue to pussy foot around what is one of the biggest scandals of this century - I am not!
And I will continue to publish information previously held back in the hope that an investigative programme (e.g. Panorama) would pick up what is an incredible story of corruption, at the cost of people's eyes and lives!
My unexpected journey started in February 2011, but with so much to recall the facts won't necessarily be in chronological order.
In 2012 I gave interviews to a number of newspapers - as did a number of other damaged patients in 2013, in England and Scotland - all killed thanks to legal threats from both Optimax and Optical Express lawyers!
Following my first interview for BBC London News in March 2012 (see YouTube), I was interviewed and photographed for an intended double page story in The Sunday Express, asked to guest on the One Show, and various other TV programmes. I was inundated with calls, all wanting an exclusive!
Within a week they all went cold and were ignoring my calls!
Russell Ambrose (Optimax owner) later admitted to me that this was his doing, and - to be fair - at the time I had little evidence to support my claims to help defend the legal threats he made against the media - but I have plenty now!!
I fought and fought for publicity, until BBC radio investigative journalist Nicola Dowling broke the media deadlock in 2014 with the BBC 5 Live Investigates exposé...
Then Stephanie Holloway's case made big news in September 2014 when she was awared £569,000, followed by Daniel Boffey's exposé in the Observer on 4 January 2015 concerning the problems caused to hundreds of patients fitted with the faulty M Plus X lens.
There've been other bits and pieces of press/radio/TV since then, but not the bombshell that we so desperately need to expose this industry!
And unfortunately, since Optical Express issued their (approx) £21.5 million claim against Associated Newspapers Ltd (ANL) re Daily Mail's cover of Daniel Boffey's story, every time a journalist has contacted me keen to write a story, they've come back to me a few days later with excuses for suddenly losing interest.
One freelance journalist told me earlier this year that there was no way any paper would touch a story about OE while the Mail was in litigation!
The 3-5 week trial was scheduled for 12 June last month, but as I posted at the time, it was cancelled after Optical Express settled with (ANL) in February.
I was very much involved with helping ANL's defence lawyers, providing extensive and invaluable evidence that they intended to rely on in court, and I am party to the main points of the settlement agreement. However, in February, ANL lawyers asked me to keep this quiet for the time being, because, as costs are yet to be settled, they didn't want to upset OE!
I agreed, with an assurance that I would meanwhile be given a story in the Daily Mail (that did not mention OE). However, they reneged on this, and I might as well now be invisible, my totally emails ignored by ANL's legal team!
The details of this will be posted soon, but for now, this is a transcript of my recorded conversation with Russell Ambrose (RA) on 19 April 2013.
NB: You do need to read Part 1 for this to make sense - posted 21 June.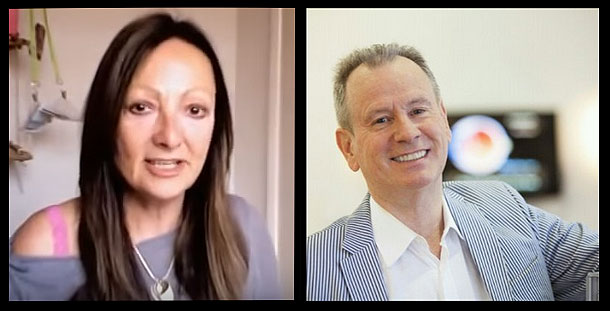 During a heated discussion about fully informed consent, Russell said, 'If I could find a better way of eliminating inappropriate patients - none of my doctors are under pressure to treat inappropriate patients, that's hand on heart! And if I could find a - a better way of eliminating the personality that can't take the complications I'd like to do that.'
I responded, 'I don't think it's personality that can't cope with complications, it's people, every person - it doesn't matter what their personality, if they think there's a chance their eyes are gonna be screwed up they're not going to do it! And I know for a fact that the chances of your eyes getting screwed up are a damned sight higher than 1 or 5%! I'm looking [at] more like 30%. [RA shaking his head] Yes! 30% minimum who've got dry eyes.'
[NB: Please remember this was four years ago, and not only do I now believe the percentage of patients with problems after refractive eye surgery is closer to 40%, possibly more, but I also know that Dry Eye Syndrome (DES) is just one of MANY debilitating and serious complications caused by this unregulated surgery.]
RA: 'I wouldn't be in this business if it was anything like that!'
Me: 'You won't be in it much longer the way it's going!'
More bickering about fully informed consent...
RA: 'I should have gone 5 years ago… What do you want, what shall I say to David [Moulsdale] if he rings me back, or if you want me to ring him?'
Discussion about Ashley Bures and my campaign and how much RA thought DM would pay me to take down OERML… [More to come on Ashley aka Mr Abs and Optimxruinedmylife.com]
RA: 'Let's go back to the issue… I think you may send him bust.'
Me: 'Who?'
RA: 'Moulsdale.'
Me: 'I know I am, but Ashley's going to send you bust as well!'
RA: 'Well that's his problem.'
Me: 'No it's your problem, it's not his money he's losing.'
RA: 'Ok fine, if he's goes bust you won't get a penny.'
Me: 'I don't care - money's not important to me Russell! I can't believe you're negotiating for Moulsdale!!'
Russell then said I should take the money from DM before he went bust, and I asked what would I do then…
Me: 'No no no, this is my raison d'étre!'
RA: 'He'll be bust soon and you'll find someone else to rattle.'
Me: 'No no no, then I'll write the book... then I give you your money back.' [my Settlement Agreement 'gags' me from publicising much of what I want to]
RA: 'I don't want my money back I just want a peaceful life. And I want a peaceful life from you Sasha.'
Me: 'This is my life. I love - I love the fact...'
RA: 'You love stirring the pot….'
Me: 'No -
that I'm helping ppl and stopping them...'

RA: 'But I'm helping ppl doing this…'

Me: 'Yes, screwing up their eyes!'

RA: [laughing] 'No I don't screw up ppls eyes...'

Me: [pointing at my eyes] 'Hellooooo?!'

RA: 'Things can go wrong, that's called life, and I do my best to stop it going wrong.'

Me: 'There's less chance of things going wrong if you don't actually aim a laser at your eyes!'

RA: 'There been millions pf ppl who've benefited from this!'

Me: 'And there've been 100s of 1000s damaged...'

RA: 'Yeah…'

Me: 'Yes! It will all come out, trust me - it WILL come out!'

This one recording is 59 minutes long so there is of course lots more to it, and with approx 40hrs of my meetings with RA recorded, lots more to come!

I did a lot of girly giggling throughout and often made Russell laugh, but I somehow think I don't have that effect on him nowadays!

To be cont'd...