SPECSAVERS
Posted

08 Nov 2020 17:36
#1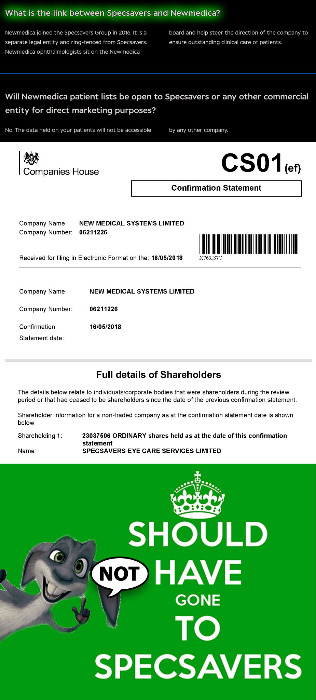 A little bit of digging (actually a lot!) and I discovered that Specsavers are not partners with Newmedica, as told to the BBC - they own the company

find-and-update.company-information.serv...ny/10779429/officers
find-and-update.company-information.serv...-significant-control
?
And just like Optical Express, Specsavers have a labyrinth of companies, with founders Mary & Doug Perkins holding 100% of the shares.
Too convoluted for me to detail here, but anyone interested should go to Companies House website, dive in to Newmedica Eye Care Ltd & New Medical Systems Ltd, and you'll find the truth there.
Meanwhile, I refer you back to Doug Perkins' letter to me: 'T
o my knowledge they [Newmedica] have never prescribed a multifocal lens…
'
This from Newmedica's website:
'
Private cataract surgery
Similar to bifocal or varifocal glasses, multifocal lenses will result in improved vision for reading and distance, without the need for glasses in most cases
.'
www.newmedica.co.uk/services/private-treatment
Doug Perkins is a bare faced liar!
Doug also denied that Specsavers had a financial relationship with Optegra Eye Hospital, again totally untrue, confirmed to me at the time by someone who definitely knew!
And as his nose grew longer, Doug told me he could not imagine '
what content Tom had with reference to Optegra "being the best in the field
"'.
Yet Tom Bradshaw was copied in to that poorly phrased letter, and it would be ludicrous to believe that Doug had not spoken with him before writing to me.
Already providing private treatment for cataracts, I have no doubt whatsoever that Newmedica aka Specsavers will soon be selling lens exchange/replacement surgery, adding to Doug's catalogue of lies.
And I also find it very hard to believe that Newmedica patient lists will 'not be be accessible' by Specsavers, as claimed on their site.
www.newmedica.co.uk/faqs#specsavers
Last Edit:
08 Nov 2020 17:55
by

admin
Note: BBcode and smileys are still usable.
This is the not the first time Specsavers has been less than transparent about their financial relationship with eye surgery providers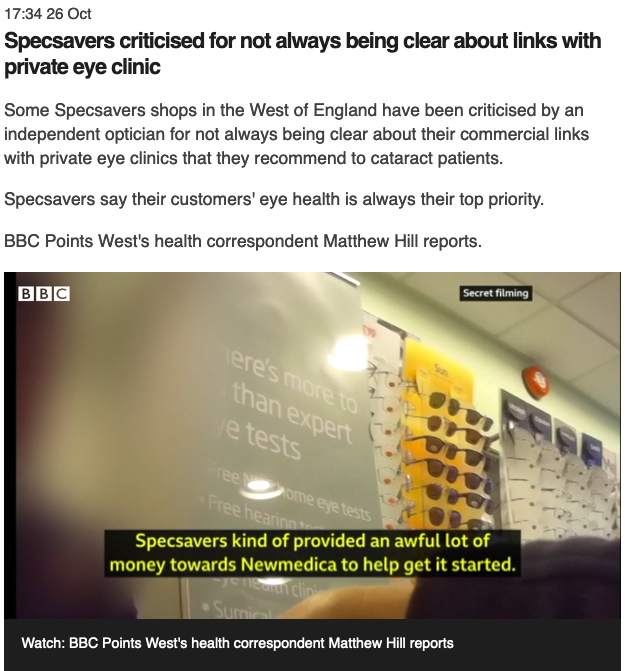 In 2014, I was asked if I'd heard any horror stories about Optegra Eye Hospital, recommended by a Specsavers optician to someone considering laser eye surgery.

I contacted Specsavers and received a call from their Senior Press Office Manager, Tom Bradshaw.

I asked if the company profited from recommendations to Optegra, and he replied, '

I don't know

'.

I also asked him to confirm whether or not Specsavers had any financial interest in Optegra.

More phone conversations and emails, until 29 July when Tom wrote: '

If our customers enquire about refractive surgery we want to feel confident in giving them the best possible advice.

After extensive research we have identified Optegra as being the best in its field.

If a Specsavers customer is determined to pursue laser eye surgery and wants to know where to find out more, then we suggest that they contact Optegra

.'

I bounced back with my still unanswered questions...

'

1. Does Specsavers profit from referring customers to Optegra?
2. Does Specsavers have any financial interest/investment in Optegra/Clarivu?

'

And, '

What "extensive research" methods were used by Specsavers to identify Optegra as being the best in its field?

'

Tom replied: '

Specsavers responds as follows.
Optegra is in our opinion the best in the field following review and consultation with our practitioners and advisors in the industry.

The existence of any form of commercial relationship (if existing

*

) between us and Optegra or otherwise would be a commercially sensitive piece of information

.'

*

100% did exist, confirmed by someone who knew! (Read 27 October 2014 post)

Then I belatedly heard about Specsavers' deal with Newmedica, and emailed Mary and Doug Perkins...

'

Subject: Specsavers partnership with Newmedica
Date: 7 December 2017 at 12:21:27 GMT

Re "However, with hospital eye departments under pressure due to an ageing population and an increase in treatable eye conditions, we will be exploring with Newmedica ways in which we can provide NHS ophthalmology services in the community."
www.aop.org.uk/…/specsavers-announces-major-ophthal…

The above statement implies that you intend to provide the same treatments that are available on the NHS, performed only out of medical necessity.

Can you confirm therefore whether you also intend to enter the more lucrative market of selling lens exchange surgery to people with healthy natural lenses, who do not have cataracts, a barbaric alternative to wearing readers?

I look forward to your response

.'

Silence!

I tried again…

'

Subject: URGENT re Specsavers+Newmedica
Date: 12 March 2018 at 17:28:28 GMT

Hi Mary and Doug

There are serious and rapidly escalating problems with multifocal IOLs, not just the notorious Mplus X lens, and explants are too frequently being provided by the NHS because private companies refuse aftercare.

When I exchanged email correspondence with your press officer in 2014, in addition to discussing your financial dealings with the company, you may recall that Tom Bradshaw told me that Specsavers had 'identified Optegra as best in the field', explaining why your optoms were referring customers to them.

You should therefore be aware that increasing numbers of Optegra's Clarivu damaged patients are contacting me for help, many currently in litigation with the company.

With that in mind I repeat my unanswered question emailed to you on 7 December 2017, as I believe it is a matter of public interest to know whether your partnership with Newmedica will include Specsavers' entry into the lucrative market of selling lens exchange surgery to people with perfectly healthy natural lenses.

On a personal note, if it is a likelihood, and assuming you don't have cataracts, would lens exchange be a procedure either of you would be willing to undergo simply to lose reading glasses?

I look forward to your response

.'

Doug Perkins responded two days later...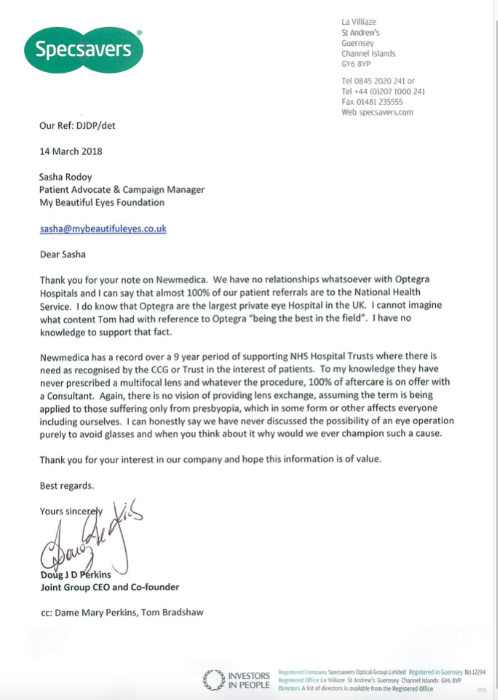 Re his claim, '
why would we ever champion such a cause
' - simples!
Way more profit selling refractive lens replacement (aka RLE & NLR), and of course many people end up needing more eye care than they did before surgery!
Time will tell.
Last Edit:
08 Nov 2020 17:56
by

admin
Note: BBcode and smileys are still usable.