Dr Sudheer Dhanireddy
Posted

20 Mar 2021 19:09
#1
Due to the specialist's unavailability at the Great Western Hospital, Olive was fast-tracked to the John Radcliffe Hospital, part of Oxford University Hospitals NHS Foundation Trust, where she underwent surgery yesterday afternoon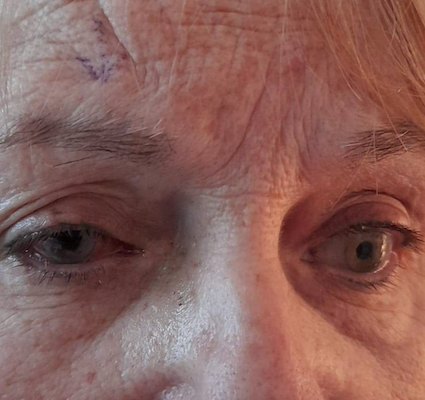 Sedated but awake, Olive endured a horrific experience, as two surgeons worked on her eye for 1.5 hours, carefully removing all the fragments that Optical Express butcher Dr Sudheer Dhanireddy had left in her right eye two weeks ago.
Still totally blind in that eye, Olive again attended hospital this morning for a post op check up with the consultant - not with an optom as would be the case at Optical Express!
Because of the severity of damage, it's not possible to replace the lens until her eye has healed.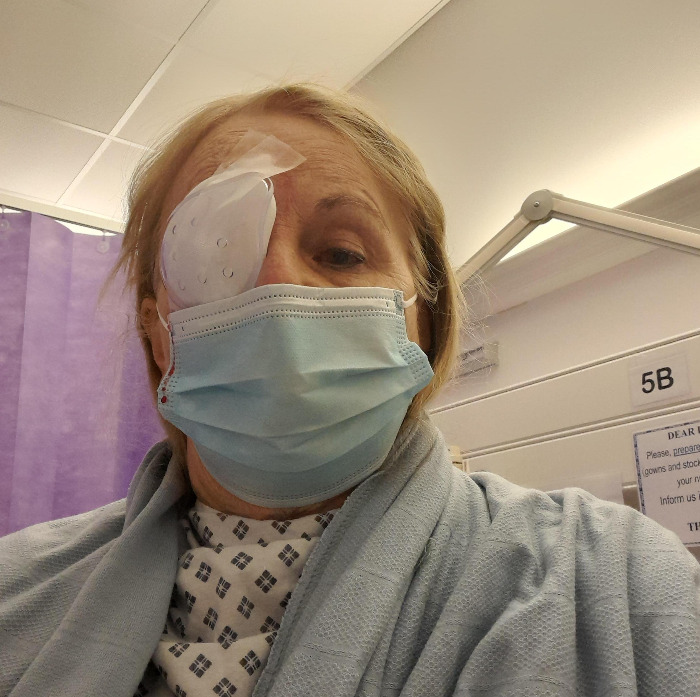 And even when a new lens is inserted, it's not known if Olive will then regain partial or full vision, or remain blind.
There is also possible muscle damage, and Olive is seeing yet another NHS eye specialist on Tuesday.
Olive's left eye will also need further surgery, but this has to wait until the problems with her right eye are resolved.
There is more, but again I am not publishing details due to forthcoming legal proceedings, when these will be disclosed to Optical Express and #DrDhanireddy.
At the moment Olive has to rest for the next four weeks, limiting her movement to avoid causing pressure on the eye.
And with up to a year of treatment/recovery time ahead of her, I think it's going to be a very long time before she is able to enjoy life as she did before her eyes were butchered - if ever!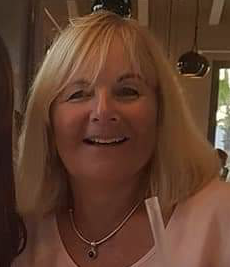 Meanwhile, it is an outrage that the NHS is giving Optical Express contracts to perform cataract surgery whilst many thousands of their damaged patients rely on nhs.uk for expensive aftercare.
*
And I do hope that someone will bring this to the attention of #AngliaCommunityEyeService Drs Neil Johnson and Cliff Jakeman - who either didn't perform due diligence before selling to David Moulsdale, or simply didn't care because money matters more to them than do the patients!
*
PLEASE, contact your local MP, ask for their support to bring this scandal to the attention of the government who continue to pretend there's no problem, seemingly not caring that it costs the NHS untold £millions to clean up after the corrupt unregulated industry.
Last Edit:
20 Mar 2021 19:18
by

admin
Note: BBcode and smileys are still usable.
Posted

14 Mar 2021 19:20
#2
Introducing the latest specs wearing butcher to join the ranks of Optical Express, Dr Sudheer Kumar Reddy Dhanireddy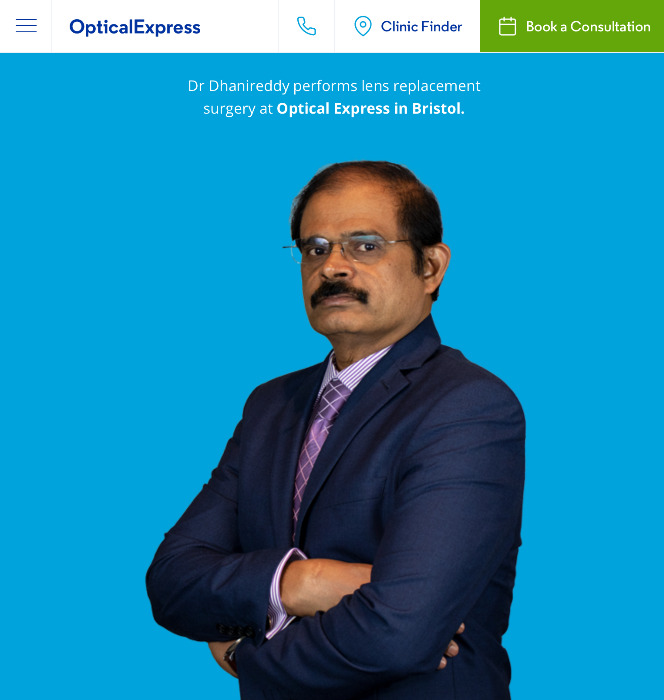 On Saturday 6 March, Olive
*
underwent bilateral lens exchange at Optical Express Castlemead Bristol store.
**
Living in Swindon, Olive had been told she would be able to drove home after her Sunday post op check up, and as her husband is unable to drive, they had chosen to spend Saturday night at a nearby hotel.
Dr Sudheer Dhanireddy operated on the left eye first, and when Olive later complained that she couldn't see, he replied that it would be OK, it was just the antibiotics and she'd be fine in the morning.
When he operated on her right eye, he punctured the posterior capsule, leaving fragments of the shattered lens in the back of the eye.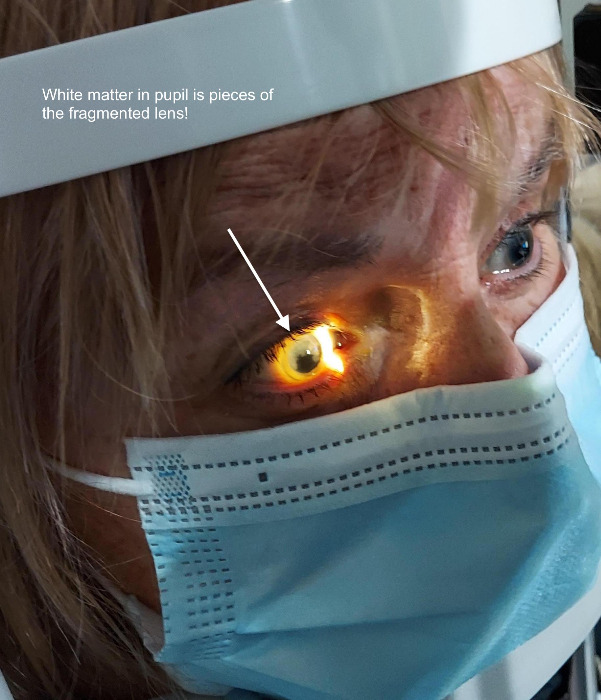 Unable to replace the lens, Olive returned to the hotel in a state of shock, greatly distressed, and totally blind in her right eye.
Having already called their daughter to explain what had happened (as best they could), in the early hours of Sunday her parents left a voicemail begging Sara (not her real name) to rush to Bristol and drive them home.
On Sunday, instead of being seen by Dr Sudheer Dhanireddy (whose OE bio oddly shows no Patient results), Olive was seen by an optometrist!
Sara was horrified at the state of her mother, and told Laura (optometrist) that she would take Olive straight to A&E.
No need, said Laura, advising that Olive should see the optom at the Optical Express Swindon store for a check up on Tuesday , while the General Office Manager, Imari Self (aka Clinical Director), assured her that Olive would see Dr Dimitris Kazakos in approximately four weeks time. (Ouch!)
And Olive was sent home, partially blind in her left eye, without a lens in her right eye...
Luckily Olive's daughter quickly found me/OERML, and when we spoke on Monday morning I advised her to take Olive to NHS A&E as a matter of urgency.
They went to the Great Western Hospital, where the retinal consultant was shocked by what had been done, to the point of calling in colleagues to look at the mess.
***
Olive is having NHS surgery this week to remove the fragments, when the retinal specialist will be able to decide on her ongoing treatment.
The damage to Olive's eyes is extensive, but I am not detailing further as OE monitor my sites (screenshot everything!), so they can wait until they hear from Olive's solicitors.
What I can tell you, the Great Western Hospital told Olive that a four week delay before seeing Dimitris Kazakos (ouch again!), as proposed by Optical Express, would have resulted in blindness.
NB: Only after the hospital chased Optical Express for Olive's medical notes did Tweedledum aka Stephen Hannan sit up and pay attention, suddenly bombarding Sara with phone calls and emails, offering same day consultations that weren't previously available!
With Sara's help, I will be making a complaint to the General Optical Council, and a complaint to the General Medical Council (GMC) about Dr Dhanireddy.
Yesterday I called Optical Express Bristol store asking when Dr Dhanireddy would be in clinic again, and was told 1 April.
'
April Fools Day
' I said to the woman I spoke with. '
Indeed
', she replied, laughing!
She very helpfully checked the computer and told me he wasn't operating at any other store before then, so hopefully anyone booked for surgery or consultation with this man will google his name and find this vital information before risking their eyes to his incapable hands!
More about Dr Dhanireddy...
'
I offer Bupa customers standard cataract surgery on the Full Pathway package option at Optical Express Bristol Clinic, Optical Express Birmingham
.'
finder.bupa.co.uk/Consultant/view/239165/mr_sudheer_dhanireddy
Describes himself as a 'Hoapital doctor' on LinkedIn!
www.linkedin.com/in/sudheer-dhanireddy-73ba1443/
The NHS need to update their records, because Dr Dhanireddy no longer works at Cheltenham General Hospital, or Great Western Hospital - the latter ironically cleaning up his mess!
www.nhs.uk/profiles/consultant/4380171
Dr Sudheer Kumar Reddy Dhanireddy's GMC registration details:
www.gmc-uk.org/doctors/4380171
Photos courtesy of Optical Express rogues' gallery - click on the the individual photos and notice how each doctor is posed with crossed arms, a classic gesture of defensiveness. (Concept no doubt plagiarised from TV programmes such as Celebrity Get Me Out Of Here - which is what OE's prey should shout as soon as they're asked for a deposit!)
www.opticalexpress.co.uk/about/surgeons
*
Not her real name.
**
BBC exposé @ Optical Express Bristol store;
***
It would be so valuable to #MBEF campaign calling for government regulation of this cowboy industry if the NHS surgeons left to repair 1000s of refractive post op problems spoke out publicly!
Last Edit:
20 Mar 2021 19:19
by

admin
Note: BBcode and smileys are still usable.